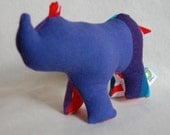 Our latest addition to the Star Safari family! A Rhino! A similar size to our popular Teething Giraffe, our Rhinos are 7" x 5.5" x 2"
This little Rhino can be used for teething, or just playing! Our baby liked grabbing it's horn to chew on, as well as the ears, tail and legs. Toddlers will love to use it for imagination play. Our toddler had his Rhino riding around in the back o...
Click Here to Visit My Etsy Shop!