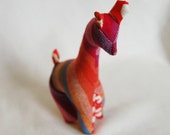 This Teething Giraffe is made from a scrap of a Girasol Inara's Rainbow baby wrap. It is accented with cotton fabric for the underbelly, tail and ears.
I love this wrap so much because it was named after a dear friend's daughter, Inara.
Click Here to Visit My Etsy Shop!